Roof tiles - Wall sidings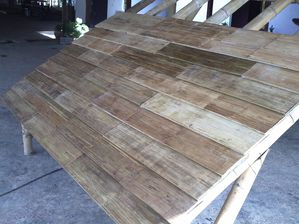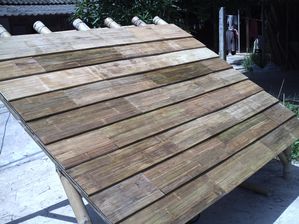 Roof Tiles:
For roof tiles, we use regular cement tiles (so we have the ''water proofness") and we apply on it, split bamboo, after having treated it, sandblasted and applied linseed oil.
Sizes: maximum 30 x 80 cm
Need 8,5 pieces for 1 square meter, because of the overlaping.
Weight: each tile: 3,9 to 4 Kg
Sidings
For exterieur, we need to use the same kind because of water proofing.
for interior, we can use boards of 4 x 8 ft (122 x 244 cm) Maximum.